Congratulations MVP Dustin Pedroia!
2008 Awards
Most Valuable Player
Source: MLB News
BOSTON -- Just call him Mr. November. Or better yet, refer to Dustin Pedroia as the Most Valuable Player of the American League.
The second baseman of the Boston Red Sox continued his rapid burst into the national spotlight on Tuesday, when he was recognized with that impressive honor.
Though most pundits expected the race for MVP to be agonizingly close, Pedroia won in comfortable fashion, outdistancing a solid field that included, among others, Red Sox first baseman Kevin Youkilis, Twins first baseman Justin Morneau, Rangers outfielder Josh Hamilton and Angels closer Francisco Rodriguez.
Following a 2007 season in which Pedroia helped fuel the Red Sox to a World Series championship and won the American League Rookie of the Year Award, the right-handed hitting machine staged quite an encore.
Pedroia joins Cal Ripken Jr. and Ryan Howard as the only players to win Rookie of the Year and MVP in consecutive years.
For his performance in 2008, Pedroia received a Gold Glove Award, a spot on the American League's Silver Slugger team and now the MVP.
By prevailing in the Baseball Writers' Association of America voting, Pedroia became the first Red Sox player to cart home the coveted MVP Award since Mo Vaughn in 1995. But unlike Vaughn, one of the most physically imposing figures in club history, Pedroia will go down as one of the slightest.
Officially listed at 5-foot-9 in the Boston media guide, Pedroia is probably two or three inches shorter than that.
After a grand slam at Yankee Stadium on Aug. 27, a revved-up Pedroia informed his teammates that he was "the strongest 165-pound man in baseball."
It was that type of infectious enthusiasm that earned Pedroia the rare ability to be considered a team leader at the age of 25.
But as much as Pedroia said in the clubhouse and dugout, his bat spoke the loudest.
Gold Glove Award
Source: MLB News
BOSTON -- For all the attention that little Dustin Pedroia gets for his big bat, his emergence into an elite second baseman has too often been lost in the shuffle.
But that changed in dramatic fashion on Thursday, when Pedroia, the sparkplug of the Boston Red Sox, was officially awarded a Rawlings Gold Glove for his defensive excellence.
Pedroia nabbed the honor for the first time in just his second Major League season. He is just the second Red Sox second baseman to earn a Gold Glove and first since Doug Griffin in 1972.
"It's unbelievable," said Pedroia. "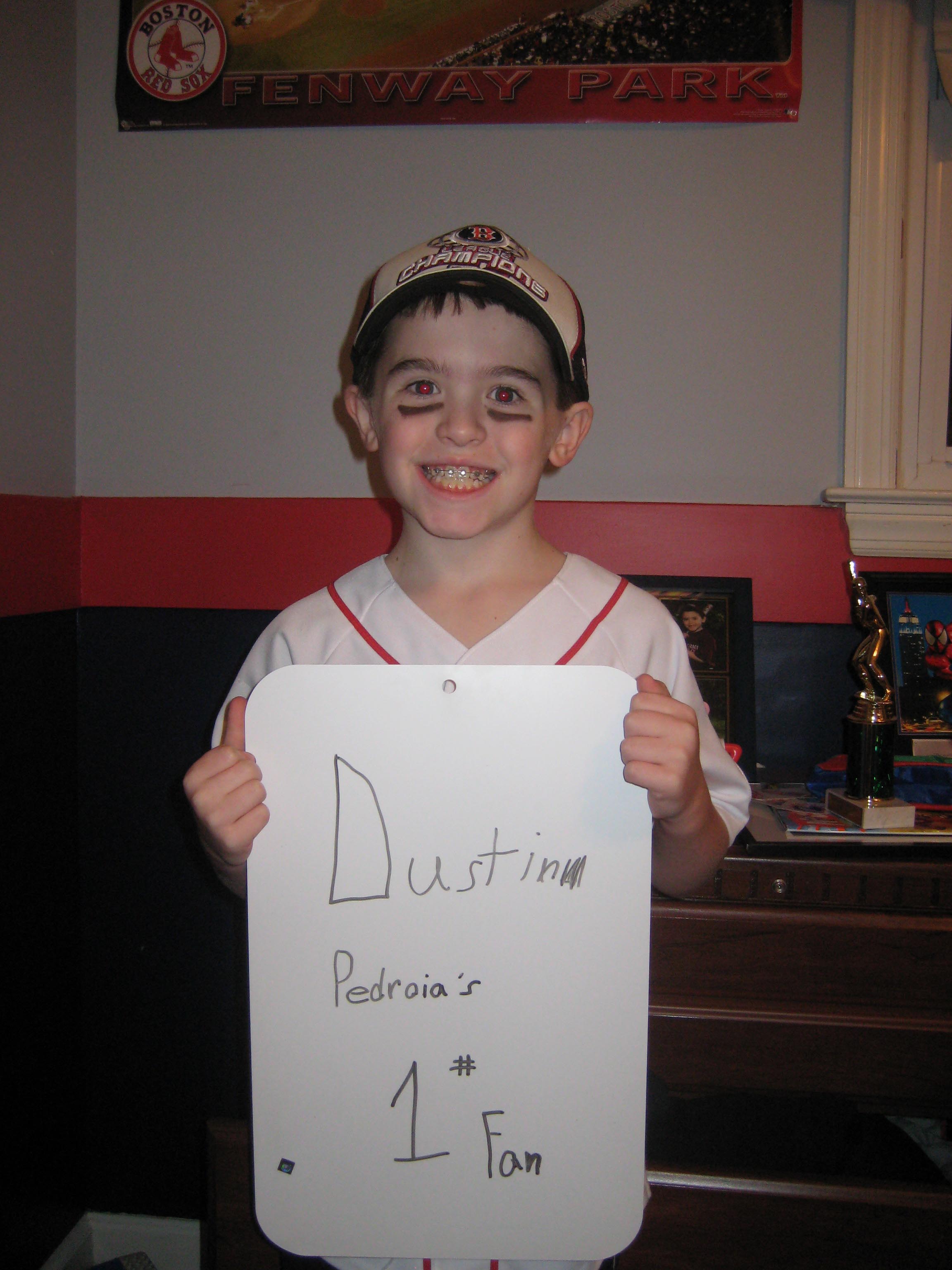 I didn't really set expectations on myself when I got up to the Major Leagues. The first two years have gone by so fast. I just kind of put my head down and work as hard as I can. When it's 7 o'clock, or 1 o'clock, whenever we play, I just go out there and play as hard as I can. That's the kind of attitude I'm going to take every single day of my whole career. I put the blinders on and just work as hard as I can, and hopefully, I'll just continue to be a better player."
A shortstop for most of his life, Pedroia wasted little time transitioning himself into a superb second baseman once he got to the Major Leagues.
Pedroia credits much of his success to his infield coach of the last two seasons, Luis Alicea, as well as veteran utility infielder Alex Cora.
"I know a lot of guys have helped me out since I made the transition to second base," Pedroia said. "Luis Alicea helped me out a ton, and Alex Cora, just preparing me for moving me from shortstop to second base. We took a ton of ground balls and tried to get better, and I think the last couple of years I've definitely proven myself that I could be a great defender in this league. Today, I'm definitely excited about it, because all the hard work paid off."
In 157 games, Pedroia made just six errors in 733 chances, the fewest for a Boston second baseman with at least 700 chances since Hall of Famer Bobby Doerr had six errors in 802 chances in 1948.
Pedroia's .992 fielding percentage was second in the American League among second baseman to Mark Ellis of Oakland. In fact, that percentage is the third best in club history, trailing only Mark Loretta (.994 in 2006) and Hall of Famer Bobby Doerr (.993 in 1948).
Silver Slugger Award
Source: Boston Globe
Dustin Pedroia has collected another impressive piece of hardware.
The Red Sox' outstanding second baseman has won a Silver Slugger award as the top offensive player at his position in the American League, it was announced today. The awards, which are presented annually, are determined by a vote of AL managers and coaches.
Pedroia, who won his first Gold Glove award last week, batted .326 with 17 home runs and 83 RBIs in his second full major league season. He is considered to be among the frontrunners for the AL Most Valuable Player award, which will be announced Tuesday.
Pedroia becomes the first Red Sox second baseman ever to receive the honor. The 25-year-old led the majors with 54 doubles, tied Seattle's Ichiro Suzuki for first with 213 hits, and ranked second with 118 runs and 61 multi-hit games, both AL highs.

He was the third major league second baseman ever to tally 100 runs, 200 hits, 50 doubles, and 20 steals in a season, joining the Yankees' Alfonso Soriano (2002) and the Astros' Craig Biggio (1998).
The 2007 AL Rookie of the Year established single-season franchise records by a second baseman for runs, hits, doubles, batting average, total bases, and extra-base hits.

Pedroia joins Jason Varitek (2005), Ellis Burks (1990), and Dwight Evans (1981) as the fourth Boston player to win Gold Glove and Silver Slugger awards in the same season.